Hours
Extended holiday hours begin Saturday, November 25th:
Monday – Saturday: 10 am – 8 pm
Sunday: 10 am – 6 pm
Kingsway Mall is open daily*:
Monday – Friday: 10 am – 8 pm
Saturday: 10 am – 7 pm
Sunday: 11 am – 6 pm
*Hours may vary – visit store pages for details.
Important Dates & Closures
Kingsway Mall will have modified hours on the following dates:
Christmas Eve (December 24) – 10 am to 5 pm
Christmas Day (December 25) – CLOSED
Boxing Day (December 26) – 9 am to 9 pm
New Year's Eve (December 31) – 11 am to 5 pm
New Year's Day (January 1) – 11 am to 6 pm
Please note that these hours are subject to change.
Travelling to Kingsway
Directions:
By Car
Kingsway is located along a number of major roads in central Edmonton:
111 Avenue NW

118 Avenue NW

Kingsway Avenue NW

109 Street NW

3km south of the Yellowhead Trail freeway
Parking
Parking at Kingsway Mall is free of charge. We have over 3,700 parking stalls for your convenience, plus 45 disabled parking stalls, 40 delivery stalls, 7 new mother stalls, and 2 taxi pickup locations for your convenience.
Please note that parking is reserved for Kingsway Mall shoppers only. Parking to go offsite is not permitted and you may receive a parking ticket.
Consider parking in the lower-use areas highlighted below, including the Upper East Parking Deck.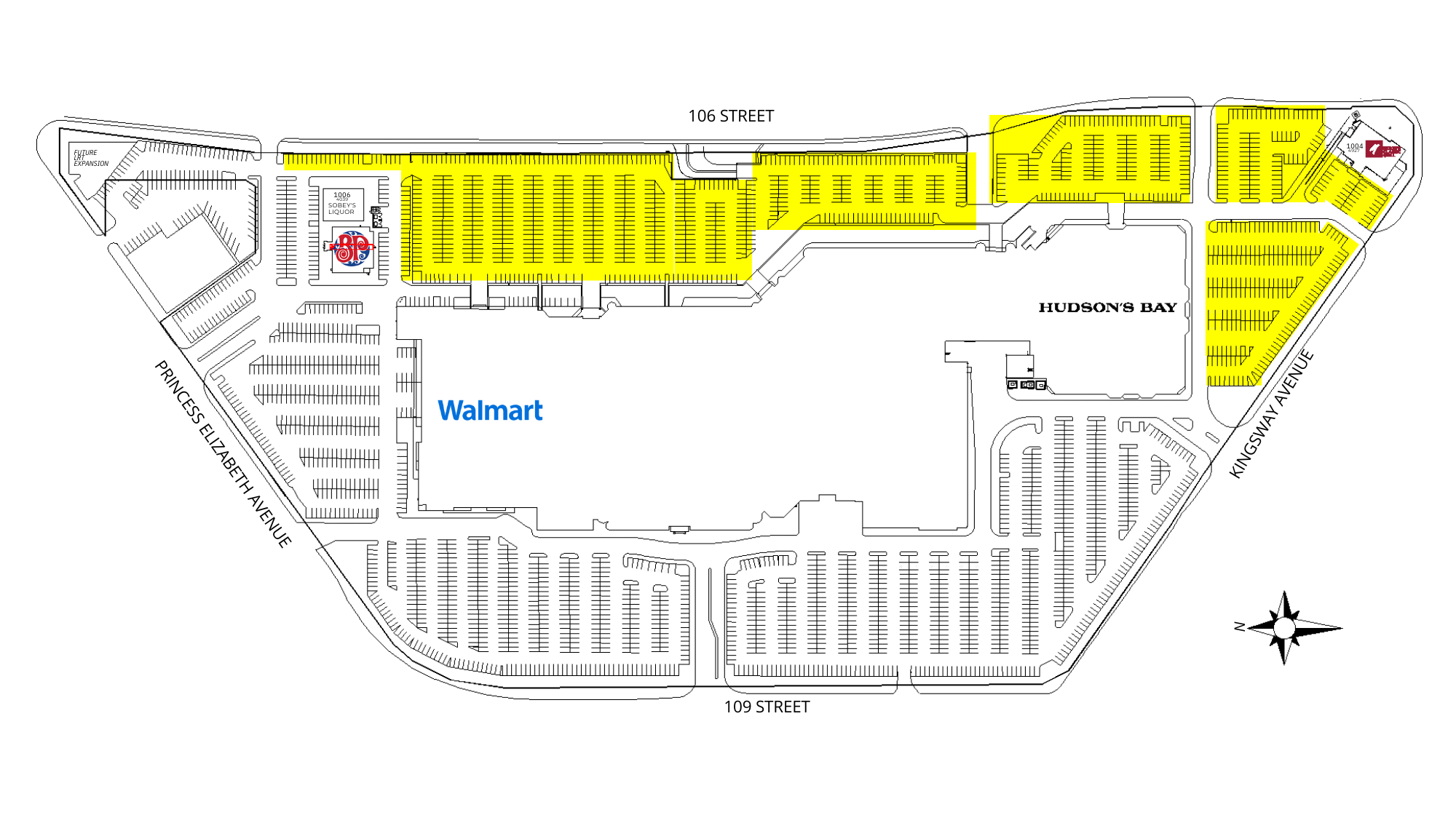 By Rideshare or Taxi
Kingsway is proud to welcome all rideshare and taxi providers. Reserved parking for Co-Op Taxi is located near the main west Entrance 1.
You can book a Co-Op Taxi to Kingsway 24 hours a day, up to six months in advance. Visit their online booking system here.
By Public Transit
Edmonton Transit System
Kingsway is located across the street from two major LRT stations: the NAIT LRT station to the north and the Royal Alexandra Hospital station to the South. There are numerous busses that stop at or near Kingsway. 
To plan your trip to Kingsway using Edmonton Transit, visit the ETS Trip Planner.